SUPPORT MUSCLE GROWTH AND RECOVERY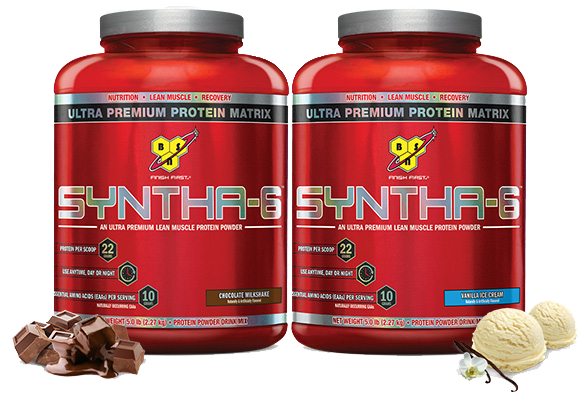 PROTEIN PER SCOOP
USE ANYTIME, DAY OR NIGHT
ESSENTIAL AMINO ACIDS (EAAS) PER SERVING NATURALLY OCCURRING EAAS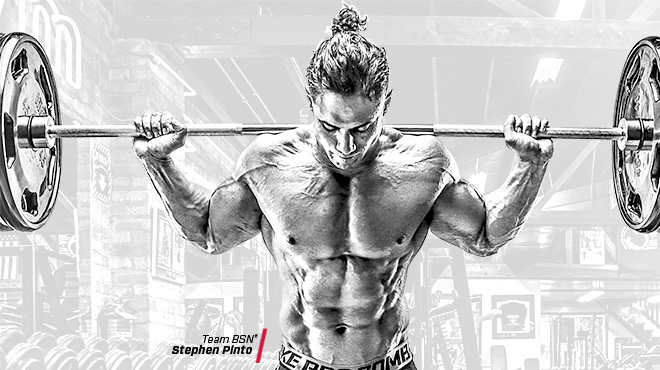 Premium sustained release protein for lean muscle, definition and weight management*
BSN SYNTHA-6 contains a proprietary protein blend. Each of SYNTHA-6's proteins provides a unique and complementary profile of amino acids and amino acid absorption rates. Using SYNTHA-6 in between or alongside meals ensures that your muscles never run out of protein building blocks (amino acids).
An Ultra-Premium Lean Muscle Protein Powder
Nutrition* – Lean Muscle* – Recovery* – Weight Management*
Ultra Premium Protein Matrix
22 Grams Protein Per Scoop
10 Grams Essential Amino Acids Per Serving
Excellent Source of Fiber
Contains 6g of Total Fat Per Serving
Use Anytime, Day or Night
Syntha-6 Product Highlights:
Multi-Functional Ultra-Premium Protein Matrix
Naturally Occurring BCAAs and Other Essential and Non-Essential Amino Acids
MCTs, EFAs, Glutamine Peptides and Fiber
Zero Milligrams of Aspartame
Designed For: Any individual who wants an ultra-premium protein powder to help them reach their nutritional and physique goals.
Ultra-Premium Protein. Ultra-Premium Taste.
Syntha 6 Highlights
Produces "ridiculously" delicious protein drinks that maximize lean muscle development
Doesn't leave you feeling bloated or stuffed: Great for several-times-daily use
Multi-Functional AM-PM Protein Blend: 6 ultra-premium quality proteins + digestive enzymes
Sustained Release: Absorbs instantly yet feeds muscles for up to 7 hours
Fortified with BCAAs (for nitrogen balance), Glutamine Peptides (recovery, immune system), MCTs (fast energy) and fiber
Ronnie Coleman's favorite protein! (strawberry, in particular)
BSN Syntha 6 consists of:
Sustained-Release Multi-Functional MiCELLMASSar Protein Matrix: Contains faster and more slowly digesting proteins. The matrix supports the elevation of circulating amino acid nitrogen levels for up to 7 hours depending on the user's nutritional state and physical activity level.
Ultra-Filtered Whey Protein Concentrate containing Alpha-Lactalbumin
MiCELLMASSar Alpha-and Beta-Caseins and Caseinates
Microfiltered Whey Protein Isolate containing Whey Isolate Peptide Fractions
Egg Albumen
Calcium Caseinate
Milk Protein Concentrate.
Glutamine Peptides: Glutamine peptides serve as efficient sources of glutamine for maintaining whole-body glutamine supplies, and thereby, muscle protein balance.
Bioactive Protein Utilization Enzymes (Aminogen and Papain): This protein utilization system promotes optimum protein digestion and absorption, which improves the uptake of amino acids by the muscle.
Fiber Matrix: Fiber supports gastrointestinal health, may help regulate appetite, and maintain blood sugar levels already in the normal range
MCTs (Medium Chain Triglycerides), and EFAs (Essential Fatty Acids): MCTs represent a fast-burning energy source. They promote the oxidation ("burning") of fat over carbohydrate and may regulate appetite. MCTs are rapidly absorbed from the small intestine into the portal circulation and transported directly to the liver. EFAs are not produced by the body and must be consumed in order to prevent deficiency. EFAs also promote cardiovascular health.
Branched-Chain Amino Acids (BCAAs) and other Essential and Non-Essential Amino Acids: Contains more than adequate amounts of every amino acid required in the human diet.
BSN's Exclusive Advanced Flavor Technology: A breakthrough in flavor technology that replicates some of the most mouthwatering shakes you have ever tasted.
Directions: Take 1 scoop with 4-5 oz. of cold water or any beverage of your choice. Vary the amount of liquid to achieve your desired consistency.
To increase your protein intake per serving and to achieve an amazing milkshake taste, use non-fat or low fat milk or your favorite soy beverage. 
Nutrition Facts
Serving Size 1 Scoop (47 g)
Servings Per Container 97
Amount Per Serving
Calories 200
Calories from Fat 50
% Daily Value
| | | |
| --- | --- | --- |
| Total Fat | 6g | 9% |
| Saturated Fat | 2g | 10% |
| Trans Fat | 0g |   |
| Cholesterol | 70mg | 23% |
| Sodium | 220mg | 9% |
| Potassium | 300mg | 9% |
| Total Carbohydrate | 15g | 5% |
| Dietary Fiber | 5g | 20% |
| Sugars | 2g |   |
| Protein | 22g | 44% |
| Vitamin A |   | 0% |
| Vitamin C |   | 0% |
| Calcium |   | 15% |
| Iron |   | 8% |
| Phosphorus |   | 15% |
| Magnesium |   | 6% |
Percent Daily Values are based on a 2,000 calorie diet. Your daily values may be higher or lower depending on your calorie needs.
Ingredients: Protein Matrix comprised of (Whey Protein Concentrate, Whey Protein Isolate, Calcium Caseinate, Micellar Casein, Milk Protein Isolate, Egg Albumen, Glutamine Peptides), Sunflower Powder (Sunflower Oil, Corn Syrup Solids, Sodium Caseinate, Mono- & Di-Glycerides, Dipotassium Phosphate, Tricalcium Phosphate, Soy Lecithin, Tocopherols), Polydextrose, Cocoa Powder processsed with Alkali, Natural and Artificial Flavors, MCT Powder (Medium Chain Triglycerides, Non-Fat Dry Milk, Disodium Phosphate, Silicon Dioxide), Lecithin, Salt, Cellulose Gum, Acesulfame Potassium, Sucralose, Papain, Bromelain.
Allergen Information: Contains Milk, Egg, Wheat and Soy (Lecithin) ingredients.
.